Nigerians woke up on Friday to find that an alarm had been turned-on overnight – Coronavirus (COVID-19) is in Nigeria.
It was like a thing waiting to happen even though many have consistently prayed that it will pass us by.
The news broke hearts, as a man purportedly from Italy brought the virus in like Ebola to Africa's most populous nation.
While measures are on to contain the deadly disease by tracking contacts, a guideline has also been released by the Nigerian government.
What To Do
There is no cure yet for coronavirus, but those who survived, largely relied on their immune system to ward off the virus.
Eat Fruits And Vegetables More
At this time, boosting your immune system is important. It powers your body to the point that it can fight infections.
Immune boosters are in fruits and vegetables with high vitamins, especially vitamin C. Eat citrus and vegetables that have this vitamin.
When antibodies or free radicals get into your body, they break down cells that are supposed to help you stay strong.
However, adding fruits and vegetables high in antioxidants is one thing you can do now to help your body fight the free radicals.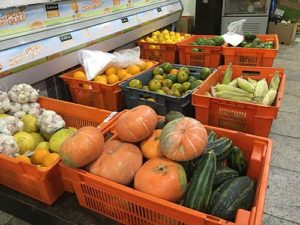 Fruits like pomegranate, apple, dates, berries, watermelon, etc, are high in antioxidants. Look out for those in purple and red colours.
Adding vegetables like garlic, ginger, beetroot, purple cabbage to your meal is also great.
These vegetables and others in that category are high in antioxidants that will help your body detoxify.
Do not just look away. You need your immune system to be strong at this point.
Exercise Regularly
Exercise is one activity that helps keep our body fit and strong.
The World Health Organization (WHO) has recommended that every adult should engage in at least 150 minutes of exercise per week. That is a minimum of 20 minutes of physical activity per day.
This will help flush out toxins from your body through sweat.
Maintain A Healthy Weight
A healthy weight helps the body stay strong. Fat particles in the blood arteries could clog the flow of blood and this weakens the immune system.
It is not a time to load your body with alcohol or sweetened drinks. These drinks weaken the immune system. Juice your fruits and drink them.
Get Adequate Sleep
The place of sleep in building our immune system cannot be ruled out as your fortify your body.
Lack of sleep weakens the immune system.
At this time, find a way to catch as much sleep as you can. It will help your cells regenerate and function better.
Wash Your Hands Frequently And Cook Your Meat Thoroughly
No one is sure of who has had contact with the man from Italy, but observing these simple hygiene will help you stay healthy.
Really, one thing that you have to get and use at this time is a hand sanitiser. Wash your hands and use the sanitiser as often as possible.
Make sure that you use a hand sanitizer that is alcohol-based.
Observing this habit helps minimise chances of getting infected.
Always remember that the first transmission of coronavirus was from animal-to-person.
Try To Minimize Stress
Reducing your stress level will help your immune system.
---
---
There are different kinds of stressors that persons in Lagos are exposed to daily.
These stressors range from less sleeping time, to staying in traffic for over 6 hours daily.
Some are exposed to sedentary lifestyle which also reduces the level of activities an individual engage in.
Others are worries and concerns of life.
Always remember that you should not let things that you do not have control over to become a burden.
GUIDELINES FROM MINISTRY OF HEALTH IN NIGERIA
Regularly and thoroughly wash your hands with soap and water and use alcohol-based hand sanitiser
Maintain at least 1.5 metres (5 feet) distance between yourself and anyone who is coughing or sneezing
Persons with persistent cough or sneezing should stay home or keep a social distance, but not mix in crowd.
Make sure you and people around you follow good respiratory hygiene, meaning cover your mouth and nose with a handkerchief or tissue or into your sleeve at the bent elbow or tissue when you cough or sneeze. Then, dispose of the used tissue immediately.
Stay home if you feel unwell with symptoms like fever, cough and difficulty in breathing.
Please, call NCDC (Nigeria Centre for Disease Control) toll free number, which is available day and night, for guidance: 0800790000-0010. Do not engage in self-medication.
Stay informed on the latest development about COV?ID-19 through official channels on TV and Radio, including the Lagos State Ministry of Health, NCDC and Federal Ministry of Health.
Top six point to consider your before going for drugs online purchase