What decorations are you thinking about for Christmas?
The festive period is just some days away and everyone is beginning to feel the season.
From a change of weather to purchase of items that all depict the time.
Interestingly, one thing that people love to do is decorate their homes and give it a new look at Christmas.
In fact, so many persons have bought decorations while some are still looking forward to doing so.
Sadly, not everyone could really be so sure of what to decorate their homes with at Christmas.
But the truth is that making few changes to your homes could be a source of inspiration. It could also bring a feeling of relaxation when you return from work.
The lights, the effigies, Christmas tree, wall wreath or even ceiling drop-down; all of them could brighten your life when you admire them.
Above all, these decorations make homes beautiful.
In our outlets we do our best to provide our customers with amazing Christmas decorations.
Assuredly, they will turn your home around if you add them to your living room.
There are different concepts that could be adopted while installing decorations at home or offices, but we have grouped them into six different categories.
Christmas Threes
There are different Christmas trees that are available for you. These trees are better positioned in your living room or office reception.
Christmas trees are beautiful, but they are made more beautiful if they have ornaments or bulbs hanging on them.
Another thing to add to a Christmas tree is the tree topper, which is usually a star.
Here are few of the very many that are available at our outlets.
Lights
Lights are great in homes at Christmas and there are different lights that you could add to your decoration this season.
From line lights which you can run form one end of the living room to another to special light designs that you can  hang on the ceiling or wall.
---
---
These lights make a living room have a different feel for both the dwellers and visitors.
Animals
Creating a kind of manger that signifies the place of birth of Jesus Christ at Christmas is something unique to have at home or office.
There are different wildlife that you can use to bring a manger feeling to your home and here are few of them.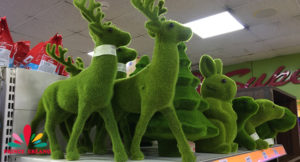 Snowman
Although, Nigerians do not witness snowfall, having a snowman decor in a home or office is not a bad idea.
The decoration brings a different feel to a living room or an office. Some are designed with lights around them to make them glow in the dark and even in the day.
Children also love snowman and it will be a great way of making them truly know what a snow man is like.
Wreaths
Also, wreaths are great wall decors for Christmas and here are some you could hang on the door of your home, the window or wall of your sitting room.
---
---
You can also add them to decors in the reception of your office this season.
Ceiling Drop Down
Ceiling drop-downs are great for living rooms, and other parts of your office aside from your reception.
They could fit in well on railings of a building and with lights passing through them. Hanging a few balls from the ceiling will also bring a new look to your home at Christmas.
Give your home that look you have always wanted.
What are the side effects of generics