Cooking Nigeria rice could be a tough work for persons who do not know how to go about it.
Here is an experience with Nigeria rice that many may have had.
Cynthia had gone to the market to get a bag of rice, but she had a sad experience.
Few months ago, the government had declared a border closure, shutting the door against foreign rice.
"We cannot continue to eat other nation's rice while our farmers labour to grow theirs," officials of the government had insisted.
Interestingly, this decision and development would translate to jobs for our people. It is a good one.
However, Cynthia was not initially bothered, but right there at the market she could feel the effect.
"How much for bag of rice?" she asked the first rice seller she saw at the first shop she stopped.
"Nigeria rice or foreign?" the shop owner queried.
"Foreign rice na,"she sarcastically retorted.
"Foreign rice is 27,000 Naira, ma'am," he responded with courtesy.
But the price hit her like a slap to her cheek.
"What?" she exclaimed.
Unfortunately, the price far surpassed what her expectation was.
However, as a Nigerian, her haggling spirit came alive and she asked: "Is it not 19,000 Naira?"
"Madam are you in this country at all? You cannot even get rice of this quality for 25,000 Naira," the rice seller responded.
'Madam Test Am'
Slowly, she looked at the money in her purse again and there was no way she could get a bag of foreign rice.
Like other Nigerians, she resorted to what was available.
"How much is destoned Nigeria rice?" she asked.
"A bag is 19,000 Naira ma'am," the seller responded.
Without giving her a time to think he followed: "This one is a good one and very nice. There is no stone and you will enjoy the taste ma'am".
Swiftly, he dipped his hand into a bag and drew some grains. He showed it to her. "Madam test am,"he said and made few further explanations.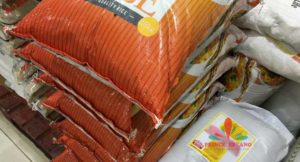 Cynthia was satisfied with the comments of the Igbo boy who has mastered the art of selling.
"Give me one bag," she said, ending the long period of discussion.
Sadly, Cynthia is not alone in this situation. Some other Nigerians have experienced this.
Why Your Nigeria Rice Melts
Meanwhile, the worse part of their story is usually that when they get home and cook the rice, some end up getting what looked more like 'Eko' (a meal made with corn and wrapped in green leaf).
Yes! there is a reason the rice comes out that way and this article is targeted at helping everyone solve this challenge.
We are an advocate of Nigeria rice circulation and we have them in our shops in Lagos and Abuja.
But the problem is that Nigerians still cook this local rice like they cook foreign rice.
However, there are few things to keep in mind.
According to reports, most of the foreign rice available in popular markets in Nigeria have been harvested and stored for months or years and they were well dried.
This makes the grains strong.
But in Nigeria, the case is different. Most of the Nigeria rice are freshly harvested, processed and bagged.
This means that they were not really allowed to get to that extreme dry level.
Therefore, this means that the rice will cook faster than the foreign rice.
Sadly, most persons have made the mistake of using the same quantity of water they coke foreign rice with to cook Nigeria rice.
This usually results in a meal that is not presentable and boring to eat.
How To Cook Nigeria Rice
Removing Stone
First, we will explain how to ensure that your rice is not full of stone when it is ready.
We have observed that most Nigeria rice have stones or sand. You can ensure these does not spoil the rice by washing it in a unique way. We will explain how this is done.
After you must have parboiled your rice, pour it in a bowl with plenty water and use your fingers to turn the surface  (the way you turn the rice with your hands when you add salt). Do this turning several times.
This activity will make the stones or sand go under while you scoop the upper part of the rice.
Repeat the turning process several times and scoop. When it gets close to the bottom, check to see the quantity of sand and consider whether to throw that part away.
Repeat the washing process for about three times and when you notice that there are no stones, you will then continue cooking your rice. Always pour away the bottom part and don't try to safe some grains of rice. If you try to save rice, you will surely get the stones back into the already sieved one.
Ensuring It Does Not Melt
The process is the same for both white rice and jollof rice.
For Nigeria rice, the first thing to decide is whether you will parboil or add hot water to it in a bowl and do your first washing. Allow it in the bowl for some minutes and then wash.
This also helps keep most of the nutrients.
After you have decided on this the next thing to decide on is the quantity of water.
But we will recommend that you begin to cook with moderate water and observe it.
---
---
It is something you are not used to, but there is always a first time and this is the right time to unlearn and learn.
The rice requires attention, especially when you love rice and need to have it as meal.
More so, with little quantity of water, you stand a better chance of getting the rice cook gradually till it is soft.
If you enjoy your rice when each grain stands alone in the plate, then this process must be given attention to.
Kindly note that it is also important that you top the water in the pot if you notice that it is drying, yet the rice is not as soft as you would love it to be.
After a period of time, you will become used to the quantity of water required to cook our Nigeria rice.
In our shops, we have fine grains of Nigeria rice and they are the best you can get. They are also offered at a price you will love.
Kindly share with people you know need this information. Thank you. 
WATCH: OUR SOCIAL SERVICE AT IBEJU-LEKKI GENERAL HOSPITAL
How can you tell if an online drugstore is operating legally